Cooking rice on a stovetop requires constant observation to avoid burning or over-boiling. Fortunately, this hassle is avoidable in modern kitchens due to the automatic rice cooker. While this appliance has evolved to offer many functions and different technologies, its overall form and use cycle have remained relatively stagnant over the past hundred years. 
Rethinking the role and application of the automatic rice cooker unveils new opportunities and improvements for this classic kitchen appliance. 
Duration: 
June 2021 - January 2022
Methods: 
Secondary and Market Research, 3D Prototyping, User Flows, CAD, Usability Testing
Rice is the
primary source of energy
for over half of the world's population. Containing fibre, proteins, & vitamines, it plays a vital role against malnutrition.
History of the Rice Cooker
•
1920s
and earlier: Kamado, earthenware cooking pots placed directly over open fires 
•
1940s:
Mitsubishi Electric, Matsushita, and Sony produced simple electric rice cookers, described as tubs with heating coils
•
 1955:
Toshiba introduced revolutionary rice cookers with a 'bi-metallic' strip, automatically stopping the boiling process
• 
1956:
Matsushita (now Panasonic) launched an automatic rice cooker, also meeting huge commercial success
•
1960:
Electric rice cookers could be found in nearly half of all Japanese households
Affinity map was used to synthesize the survey findings into user's likes, dislikes, and desires when it came to their rice cookers. 

Dash Mini Rice Cooker Investigation
To get a deeper understanding of the user journey and product function, a full analysis of the Dash Mini Rice Cooker was completed.
Concept Development & Ideation
Following research, target audiences were looked at, specifically the hospitality industry. 
The COVID-19 pandemic will have long-lasting impacts on hospitality, with the service evolving to be as contactless as possible. Sourcing a good meal while traveling has grown more difficult, as hotels have abandoned self-serve buffets, and not everyone is able to afford room service or to eat out for every meal. 
Therefore, the opportunity to cook in one's own hotel room could be a solution. Introducing a multi-use appliance such as a rice cooker into hotel rooms would be a non-invasive and easy option. 

Since hotels serve a wide range of customers, the focus was placed on creating a product that was
safe, easy to use, and simple to understand
. Additionally, the product should not be moved around and should be easily serviceable.
User testing trials were performed with simple cardboard mockups to assess a variety of features. The user was given the following scenario:
"You are a tourist who has just returned to your hotel after a long day. You are hungry but too tired to venture into the unfamiliar city to try to find food. Room service is too expensive...but the hotel provides a rice cooker & rice packets that you can cook yourself!" 
The user was then given the following instructions: 
1. Open the rice cooker. 
2. Pour rice inside
3. Pour water inside. 
4. Close the rice cooker and press on. 
5. Serve yourself the cooked rice. 
Various form factors and functionalities were specifically tested, including the opening mechanism, the access to the rice scoop, and the placement of the interface. 
Both methods of opening were found to be comfortable. Interestingly, opening from the front encouraged the user to move with and eat from the bowl. 
The user preferred to use the spoon they would eat with rather than the scoop, but storing it on the side was found to be the most convenient. 
Lastly, the top-angled interface was found to be the easiest to read. 
Concept Refinement​​​​​​​
Isolating the inner pot to prevent contact with a hot surface inspired a new innovation: Instead of scooping cooked rice out of a hot pot, rice could be released directly into the user's bowl. 
This concept lead to a new form:
A pot that released rice and sat on top of a serving bowl. 
MIZU is a hotel rice cooker that is

safe, easy to use, and simple to understand.

 
Using pre-provided single-serve rice packets, MIZU's use cycle has been minimized to

measure, turn on, and serve

. 
To ensure the safety of every guest, the inner pot is concealed while hot so the user has zero contact with any hot surfaces while serving their rice. The step of scooping, which many users found frustrating, was completely eliminated with a unique aperture opening bottom.
A hotel serving tray is used to organize all components and accessories, including:
1. Pre-packaged rice in a variety of flavors
2. Water, for easy access
An inner pot marking indicates where to fill water, ensuring the optimal ratio for the quantity inside the rice packets. Cleaning and servicing are completed by hotel staff.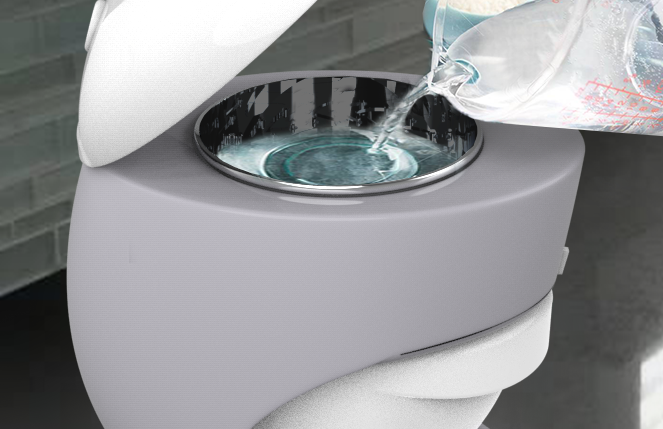 This model was completed in collaboration with technicians at Carleton University. The body and bowl were formed from
polyurethane foam
. The lid was modeled in
CAD
and
3D printed.
It was then hand-sanded and hand-painted before being glued onto the foam body. 
MIZU
 makes the rice cooking process
effortless
. Ideal for applications ranging from hotels to offices to homes, MIZU is a safe, simple way to make rice. MIZU also offers hotels and other industries a contactless way to provide food service to their guests and users.
The danger of burning oneself is eliminated by the innovative bottom-aperture opening design.

For those seeking
simple utility
and
safety
, MIZU is the perfect solution. 
The final product met the design brief of being
simple, safe, and easy to use. 
However, given the time constraints and the limitations presented by the COVID-19 pandemic, full testing of the product function with end users was not possible. 
If this project was to be taken up again in the future, the emphasis would be placed on a works-like model that could be tested with
end users
to validate its functionality.